.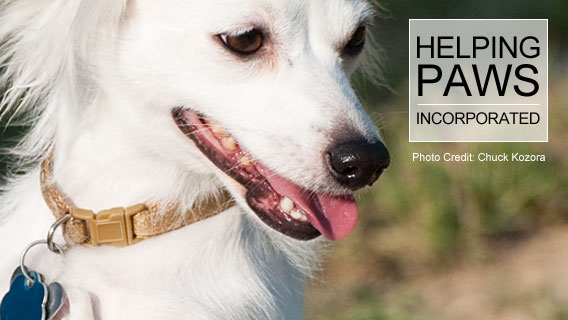 Helping Butler County and surrounding area rescue groups save lives.
News
We're now on Facebook!
Click to follow us and find out the latest!
Dog and Cat Food Needed
We are collecting donations of dog and cat food (and cat litter) for the local rescues we support. If you would like to make a food donation, please contact us at 724-272-7238 or by email, HelpingPawsInc@yahoo.com
Rescue Groups we have helped
The Lyons Den, Grove City Area Pet Rescue, Critter Care, Rembier Farms, Distinguished Dobermans Rescue, Operation Spay Neuter, Skye's Wildlife Rescue, Going Home Greyhounds, FosterCat, Steel City Dog Rescue, Central Ohio Pomeranian Rescue, Senior Hearts Rescue and Renewal, Two Ladies Four Paws Rescue
Our Mission
Helping Paws is a small group of volunteers committed to supporting local Butler County and surrounding area animal rescue efforts through fundraising, assisting in finding animals forever homes, the public education of responsible pet ownership and promoting spay and neuter programs.